UPDATE 2/20/2018: One of my readers reported this month that this place is now closed!

So sad!
For the most part, the food scene on Thailand's islands is a barren wasteland full of overpriced and under-flavored foods that I wouldn't wish on my worst enemy. I don't know what causes this phenomenon, but I think it has something to do with the fact that a lot of Thai people keep trying to feed us spaghetti. Yes, spaghetti! We stayed for two nights with a Thai Woman in Chiang Rai, and she cooked us macaroni with meat sauce on the first night. Only after spending a lot of time convincing her that we wanted to eat what she likes to eat did she relent and make a delicious stir fry for our second dinner.
The food in most of Thailand's most touristy areas just tends to taste subpar to me. I'm not sure who to blame, the locals or the tourists. Is it the tourists fault for always asking for "Mai Ped" (Thai for not spicy)? Or do Thai people water down the food because they think all we want to eat is spaghetti? I think the answer lies in the latest crackpot theory Kevin and I cooked up: The TripAdvisor One Third Rule.
In this post, I'll explain our TripAdvisor One Third Rule, our Golden Rule for eating in Thailand, and I'll tell you where to find the absolute BEST cheap food in Koh Lanta. We found a gem that serves up some of the best curries we've had in Thailand, at prices that rival the ones we're used to in Chiang Mai.
The TripAdvisor One Third Rule
We came up with The TripAdvisor One Third Rule when we were in Koh Lanta for a week, and it states that "When traveling in countries where the locals do not use TripAdvisor, one should automatically disregard the top one third of TripAdvisor Ranked Restaurants, and take all reviews with a grain of salt."
I don't want to offend my fellow tourists out there, but I think some tourists might have a skewed idea of what Thai food is supposed to taste like. I blame Thai food restaurants in our home countries. Let's face it, there are a lot of bad Thai food restaurants in countries where TripAdvisor is popular. I can vouch for a handful of bad Thai places in Seattle alone, and I know there are a lot of less than stellar spots in Europe. I think this sets the bar for Thai food really low with a lot of people, so when they come to Thailand, even a mediocre restaurant seems fantastic.
This is the problem with TripAdvisor – people making the ratings may have this skewed idea of what Thai food tastes like. Also, some of the best places I've eaten don't have an English name, so they're less likely to be on TripAdvisor. That's why we like to disregard the top third restaurants and focus on those in the middle of the pack.
As a specific example, we tried Jai-Dee's, the #16 ranked restaurant in Koh Lanta (out of 203 total restaurants). The staff was really nice and we met the lovely owner, but the Pad Thai was just awful and their Panang curry was not good. Several doors down, Blue Moon Bar (Ranked #96) serves up far superior noodle dishes and had a really delicious Papaya curry. The One Third Rule in action, people! (Blue moon is beach front, so it has fairly high prices; 80 Baht for noodles, 120 Baht for curries, and a whopping 40 Baht per serving of rice, ouch! But the view is probably worth it, and the waiter Ken is awesome!)
The Golden Rule for Eating in Thailand
Stop looking on the internet for good restaurants! Most spots with a good internet presence will be more expensive, more crowded, and often times if they get more popular the food quality gets watered down. I suggest completely ignoring Trip Advisor. Instead, search for good food with your eyes! Walk around and look for restaurants that are packed with locals. Go outside of the touristy areas. The number of motorbikes parked outside the food stall directly correlates with how good the food will taste!
The golden rule of traveling is to eat where the locals eat. Someone once explained it to me like this – if you eat like the locals, it will be tastier (obviously), but it will also reduce your chances of getting food poisoning. Why? Because local people know the right way to cook local food, and might not be as good with foreign food. I've heard multiple stories about people getting food poisoning in Thailand from deli meat. We think it's because refrigeration isn't as important here since most food here is so fresh. Lack of refrigeration with fresh food is fine, but with deli meat it can be dangerous.
If you MUST look on the internet before you go, I don't blame you. I am one of those people who like to plan ahead, too. The very best source of info in Thailand for us has been travel blogs! Sometimes you have to dig deep into the interwebs (page 4 or 5 on Google search results, PHEW) to find the best posts, but it's worth the effort to get a blogger's perspective. Some of our favorite spots in Chiang Mai were found that way.
Finally, the Good Cheap Food in Koh Lanta!
We found it. The holy grail. Delicious food on one of Thailand's Islands. We've been to Koh Samui, Koh Tao, Koh Phangan, and Ko Chang, and never found anything that even comes close to this place. The best part?! Prices are similar to the ones you'd find in Chiang Mai, and the portions are big!
Located near Klong Dao beach, this awesome little food stall nearly blends into the noise around it. The restaurant doesn't have a name, but loyal customers have nicknamed it "Pad Thai Like". It's run by a wonderful couple (The husband, Part, and his wife, Oou) that serves up some of the best curries I've had in our entire 8-month stay in Thailand.
Here we are, enjoying our first meal at Pad Thai Like:
It even impressed my brother-in-law Albert, who probably loves eating more than anyone I've ever met:
They served the best Green Curry I've ever had in Thailand (50 Baht), and also the best Tom Kha Kai (coconut soup with chicken) I've had in the 8 months we've been here:
The Muslim-style curry (50 baht) was stellar:
The Savory Curry (50 baht) was even better:
Becca and Albert enjoyed the Pad Thai with Shrimp (50 Baht):
And don't miss the shakes. I would swim across the ocean to reach Koh Lanta if it meant I could have their pineapple shake (30 Baht) one more time. The Mango shake with yogurt (60 Baht) was also delicious:
So how do you find this mythical, magical, wonderful restaurant? It's on the main road near Klong Dao beach, across the road from the Ananda Lanta Resort where we stayed. It's just south of Salad House: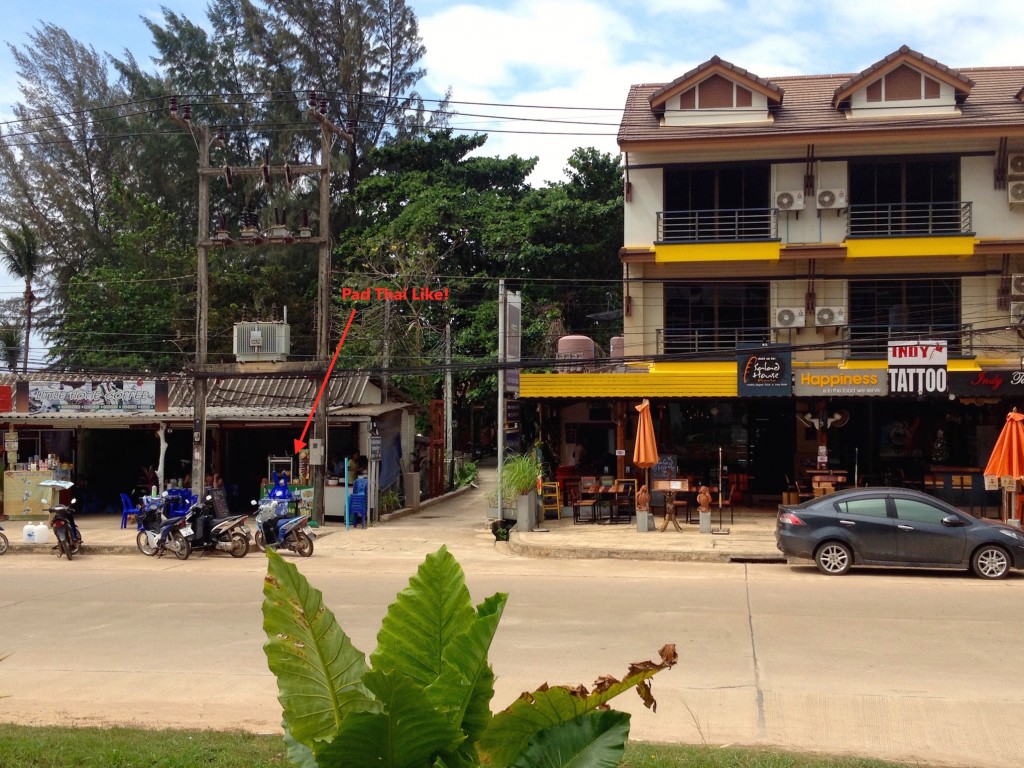 Here's a view of the storefront:
Once you see this sign, your saga to find delicious, cheap Thai food in Koh Lanta is over:
Be warned that if you go after 7pm, they might be starting to run out of food. It's a small place with only a handful of tables, so do yourself a solid and just go early.
We Want to Hear From You!
Have you ever discovered a little known gem of a restaurant during your travels? If you have, leave us a comment and let us know! Who knows, maybe we'll travel there and give it a try. Stranger things have happened!