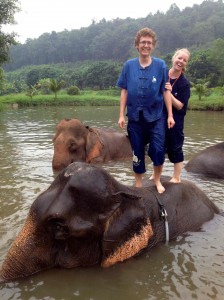 สวัสดีค่ะ!  (Hello, in Thai!)  We are Kevin and Melanie, a couple of oddballs from Seattle, WA, USA who have developed an intense love of travel since our marriage several years ago.  Some folks may already be aware that we used to keep a ridiculous spreadsheet designed to maximize every last bit of our vacation days.  We've taken recent trips to Belize, Europe, Vietnam and Thailand, but have recently realized that our list of places to travel was growing far too long to be satisfied by just two weeks of vacation per year.  We had to find a better way to satisfy our wanderlust.
So in April 2014, we quit our jobs as engineers at Expedia and Boeing to pursue a new adventure in Southeast Asia.  We will be traveling, living, and working here for at least a year.  We will be based in Chiang Mai, Thailand through the end of November, with two trips out of the country to visit Singapore and Myanmar.  After November, we hope to visit Laos, Cambodia, the Philippines, and Indonesia.
Over the course of the next year, we'll blog about our travels, adventures, and the inevitable mistakes we'll make along the way (like how we almost got quarantined in Beijing Airport.)  We hope that reading about our mistakes will make your travels more pleasant; at the very least, we hope to give you a laugh.  Safe travels, friends!
"Twenty years from now you will be more disappointed by the things you didn't do than by the ones you did. So throw off the bowlines, sail away from the safe harbor. Catch the trade winds in your sails. Explore. Dream. Discover." -Mark Twain